Our aim is to help you enjoy a hassle free sea life with the help of our products. In this section we will guide and help you, Answering questions and directing you in the odd case when there is a service need. If you have a service need send us an e-mail – service@verneva.com.
FAQ
Quick answers to frequently asked questions about Vernevas different products.
Verneva Current Series
Get a better understanding of how to handle our electric propulsion outboards.

Batteries
What do you need to understand and think of when it comes to the batteries used to drive the engines.
Accessories
What type of accessories are available to enhance your electrified marine life.

VERNEVA CURRENT SERIES
Can I power the Verneva Currents series with a third party battery?
Yes, but you need to make sure that the specs are correct (48V, enough maximum discharge current etc). This means that for our C20 model with the need of a maximum discharge current of 220A we need two of Vernevas 50AH batteries and the Quadcell product.
We therefore recommend you to use our batteries, to be certain that you have batteries with high efficiency and security.
How to find the right shaft length?
The Current Series is an "All-in-one solution" which means flexible and adjustable lengths for the engines, so you don' have to know the exact information of the shaft length needed.
In general the transom height decides the shaft length. You need a short shaft length for a transom height between 38-42 cm and a long shaft length when the transom height is around 50 cm.
.Is Verneva Current series suitable for saltwater use?
Yes, it is designed for extensive use in the saltwater. The engines are built with high-quality materials, and are certified for use in salt water environments.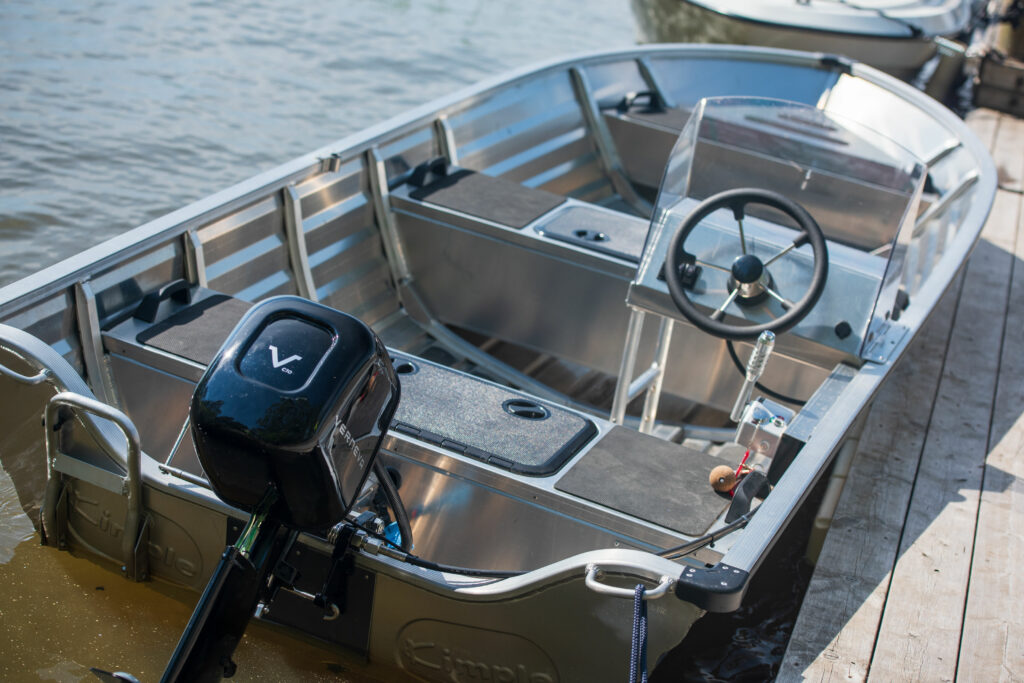 BATTERIES
Can I use a more regular 12V Battery (comparable to a car battery)?
No, our Verneva Current Series demands 48V batteries.
How do I store the battery for longer periods of non-use?
Store the battery in the dry environment and preferably try not to let the battery get fully discharged (good to have a charge level above 50%), and make sure to charge the battery every 3 months.
What is the reach for the different engine packages that Verneva is offering?
The reach of the battery/motor configuration chosen is very much dependent on the boat (type and total weight), which makes it hard to give exact specifiations. We are continuously testing and adding information about our tests in the "Community" section of the website. There we also look at total cost of ownership compared to a traditional petrol (two- or four-stroke) outboard engine.
How do I charge the Verneva Batteries?
The Batteris from Verneva comes with a charger. We DO NOT recommend you yo use any other charging device.
ACCESSORIES
What exactly does the QuadCell do?
The QuadCell is a "scalable battery hub" meaning you can parallel link up to 4 expandable battery modules (such as VE-4850), to form a larger capacity battery bank. Only use Verneva Batteries AND the same types of Batteries (not mixing 48V 30AH batteries with 48 V 50 AH batteries).
How does the Remote Joystick Control Set work?
The Remote Joystick Control needs to be connected to the Verneva Current Series electric outboard with a teleflex cable (comes in the set) to work properly. Then the remote replaces the tiller for adjusting speeds. For steering you then need to add a steering wheel.
The Remote has all funtions that the tiller control has regarding operation modes (eco, normal, sport) and the stick ca neasily be shifted from one side to the other (L/R).
The Vernava Joystick Set is constructed for top mounting
Why do I have to select the length of the Teleflex cable?
We provide you with this option so that you can find a suitable length for your boat.. We suggest you to do measurements to see the length needed for you specifically.